Client Services
Microchipping for Your Pet's Safety
A lost pet is a frightening situation with often devastating consequences. More than 10 million pets get lost each year and approximately 90% of those found would not have been returned to their owners without some form of permanent lost pet identification.
Do your best to protect your pet with the AKC Reunite Indigo ISO Microchip pet identification system. The AKC Reunite microchip registers your pet with a unique identification number, which is filed in a database with your contact information. The contact information can be updated any time, and it is important to remember to do so whenever your information changes. If your pet is lost, the microchip can be scanned by animal control officers, at shelters and at veterinary hospitals in the U.S. and in many foreign countries.
This safe, reliable and permanent pet identification takes less than 10 seconds to implant and can save you and your pet unwanted fear and anguish.
Your Veterinary Pharmacy
Our commitment to your pet's health is also reflected in our fully stocked in-house pharmacy. When it comes to prescription medications, accurate dosage and administration is of the utmost importance. As your pet's prescribing veterinarian, you can trust that when you fill prescriptions at our pharmacy your pet will receive the right medication, at the right dose, in the right form as quickly as possible.
We will also provide you with detailed instructions on the medication's use, discuss any side effects or interactions and even give your pet the first dose if possible. You can feel confident all the medications we dispense were obtained from safe, reliable sources and stored under the right conditions.
Ensuring you have convenient, timely access to competitively priced medications and other pet care products is an important aspect of our veterinary practice. Refills are easy, too. Simply give us a call at (651) 768-0200.
End-of-Life Planning
For many pet owners, thinking about their pet's final days is difficult and emotional. However, taking the time to plan, as hard as it may be, will lessen the pain and stress for you and your pet.
We encourage you to talk with our Cottage Grove veterinary team about end-of-life issues before they become urgent. Find out about your options, including our crematory services, make key decisions ahead of time, and ask us to add this information to your pet's record. All of us at Cottage Grove Animal Hospital will do our best to help you prepare for this challenging time with compassion and sensitivity.
Health Certificates for Your Pet
Should you be planning a trip with your beloved pet, the veterinarians at Cottage Grove Animal Hospital are happy to provide Interstate and International health certificates. International Health Certificates are issued by USDA-accredited veterinarians only and must be endorsed by the state's USDA Veterinary Services office. Because each destination country has different requirements for your pet's entry, we ask that you investigate your destination's requirements prior to your appointment. To know what is required, we recommend contacting your destination country's consulate or embassy.
While we are happy to do all we can to help you prepare, Cottage Grove Animal Hospital cannot assume responsibility for ensuring all the requirements are met for your particular situation and cannot be held responsible for quarantine, denial of entry, or costs incurred due to unfulfilled requirements for your pet.
Referrals
In an effort to provide you and your pet with access to the most comprehensive care, we maintain relationships with a wide range of veterinary care practitioners in Minnesota. Should your pet require a service or treatment we do not provide, we can refer you to one of the many skilled, compassionate doctors at the following facilities:
For behavior and obedience training, we refer to the following obedience schools:
For pet boarding services, we refer to the following facilities: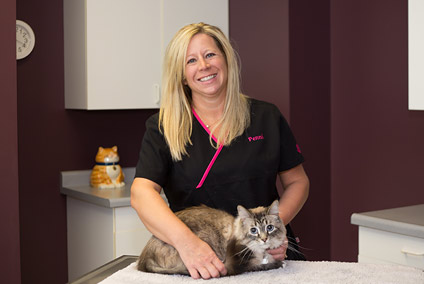 Grooming is an important part of preventive medical care, and regular baths, coat brushes and nail trims help prevent serious medical problems and detect skin infections and growths before they become a problem - not to mention make your pet look, smell, and feel better. For a grooming experience you and your pet will appreciate, we recommend the following businesses:
For feline grooming services, we refer to the following facilities: