About Us
Trusted Veterinary Medicine for Your Pet
You want your pet to live the longest, healthiest and happiest life possible – and so do we. When you entrust the veterinarians and staff at Cottage Grove Animal Hospital with the health of your pet, you can be assured your special companion is receiving the most advanced veterinary care from an experienced, compassionate team that has dedicated their professional lives to making animals – and their owners – happy.
Cottage Grove Animal Hospital opened on April 8, 2000, and the practice thrived under the ownership of husband and wife Dr. Mike Thrasher and Dr. Peg Frank. In January 2006 Dr. Sarah Whatley joined the team as an associate veterinarian to help us better serve our growing roster of loyal clients. She became a partner in October 2014. Along with our three veterinarians, our dedicated support staff takes the time to truly get to know each and every one of the families and pets we see.
Preventive Care To Help Ensure A Lifetime of Good Health
The centerpiece of your pet's healthcare plan at our animal hospital is regular pet wellness care customized to your pet's needs based on breed, age and lifestyle. As with your own healthcare, identifying issues before they become serious is the key to long-term good health and keeping the lifetime cost of caring for your pet as low as possible.
Advanced Veterinary Medicine When Your Pet Needs it Most
Even with the best preventive care, illness and injury can happen – but you can rest assured our skilled veterinarians and medical team have the knowledge and resources to help your pet feel better as quickly as possible. Our diagnostic and surgical capabilities and advanced veterinary technology, including a comprehensive in-house laboratory, allow us to restore your pet's good health and happiness as quickly as possible.
A Healthcare Partnership for the Lifetime of Your Pet
The veterinarians and staff at Cottage Grove Animal Hospital strongly believe great veterinary care begins with taking the time to get to know your pet, talking with you and giving you all the information you need to be the best possible caregiver for your companion. We want you to feel confident your pet is receiving the best care possible. So please ask us anything you want to know!
We understand choosing a veterinarian for your beloved pet isn't an easy decision. We encourage you to read about the services we provide and why you should trust us to be your pet care partner. If you have any questions or would like to schedule an appointment, please give us a call today at (651) 768-0200. For your convenience, we offer early morning drop-offs for your pet on the day of their appointment.
Location & Hours
8136 East Point Douglas Road S.
Cottage Grove, MN 55016
Phone: (651)768-0200
Fax: (651) 768-0400
Hours
Monday - Friday: 8:00am – 6:00pm
Saturday: 8:00am – 11:00am
Sunday: Closed
Payment Policy
Payment in full is due upon completion of services. We accept cash, checks, Visa, MasterCard, and Discover.
Community Support
The entire team at Cottage Grove Animal Hospital knows how important it is to give back to the community that has supported us since we opened. We provide free examinations for local rescue organizations, classes on animal awareness and safety, and tours of our clinic. We also take care of all the veterinary needs for Gunnar, the Cottage Grove Police dog.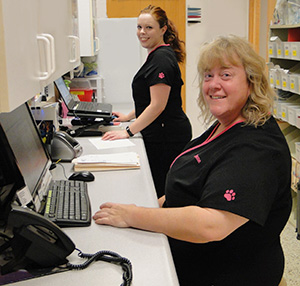 We work with the following organizations:
Humane Society for Companion Animals
Animal Ark
Animal Emergency Clinic and Referral Center
Greyhound Pets of America
Local Girl and Boy Scout Troops
Safety Town Camp
Veterinary Hospital Association
Better Business Bureau